Hi everyone! I've got Alexis with me today and she is going to share a bit on her new story!
Thanks for having me! I'm Alexis Alvarez, and I'd like to share a snippet from my newly released romance novel, Dream Girl. It's my own version of The Bachelor…done the way I want to see it, of course, with a perfectly sexy and dominant hero, and the sassy, smart woman who will steal his heart.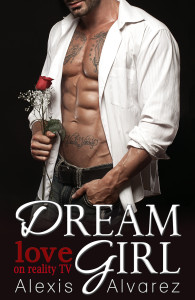 Blurb for Dream Girl:
He's sexy and intelligent, handsome and witty… and Chloe's body lights up with sparks at his touch. And when he looks into her eyes and whispers naughty sexy things into her ear, she wants to melt into him and enjoy the mind-blowing passion he promises.
Too bad he's the star of the popular reality show Dream Girls, and he's also dating nineteen other girls in addition to Chloe — girls who are sexy and so talented that their Nobel Prizes should arrive any day now. Chloe's sure he's just amusing himself with her, and there is no way he'd pick her as his final Dream Girl — especially since she gets into so many crazy scrapes on the show.
She promised herself she was only doing this for adventure, travel, and new experiences…not to make a fool of herself on national TV. But he's so sexy and persuasive! Would it be so bad to say yes to all of his dark, dirty requests? And most important of all — what will happen if she risks her heart?
Dominic is usually the dominant one in their interchanges, but in this excerpt, Chloe switches things up.
My REVIEW:
Dream Girls is a one of a kind story that will really hold your attention and never let go! As a fan of The TV series The Bachelor, this book really caught my eye. It was perfect, truly a wonderfully fun love story with a bachelor to die for!! There were so many snarky moments, this book had me gasping aloud and laughing the next! I'll admit she did have me crying around 80% and kinda through the ending! I LOVED this book!
I also need to mention that this is my first book by Ms Alvarez and it certainly won't be the last. I'm going to her amazon page now and #1clicking everything! She has a way with words that literally make you feel for the characters. I was hanging on, literally flipping pages as quick as I could to find out what happened next!
Oh! She can write the naughty… like your kindle will catch on FIRE. It is so hot I found myself blushing and looking around to make sure I was indeed alone. Like I didn't want to be caught reading something so sexy and hot! Lots of yummy spankings and yummy sexy scenes that will make you melt!
Overall this was a fun sexy book that I will be reading over and over again! I want this in paperback too! Just look at that cover! Yummy! I want more of Chloe and Dom! Please! Highly Recommend!
Excerpt from Dream Girl:
Chloe is over Dominic's lap…
"Good," he said. "If you need me to stop, you let me know. But until that point, you're going to do as I say. Understand?"
"Mmm hmm," murmured Chloe. She was already so aroused and excited that she didn't even want to talk. She could barely wait to feel his hand across her ass.
"So, first of all," he told her conversationally, stroking her with one fingertip, up and down the curves of her body. "When we're in the bedroom, it's not going to be Tools or Tool Box. You're going to address me as Dominic. Or Sir. Understand?"
"Okay." Chloe wiggled on his lap, feeling his erection hard beneath her hips. Then she cried out as his hand slapped down hard across her ass, once and again.
"Try again."
"Yes, I understand!" she corrected herself, trying to wiggle again, but still unable to release herself from his hold.
"Nope." He raised his hand and cracked it down across her ass hard again, and again. "It's a good thing we're starting easy," he commented, slapping her as a punctuation between words, "Look at you, having a hard time at the very first rule."
"Ow!" wailed Chloe, writhing back and forth against his hard thighs, feeding her arousal by rubbing her body on his. "That hurts."
But her voice trailed off on a happy purr, and she raised her ass up to his hand. He continued to spank her, alternating cheeks, until she started struggling harder. Her ass was burning, but each spank sent a spike of sharp desire into her core, making her ache for more, making her burn for the orgasm that was building, little by little. When the burn got too strong, she grabbed his leg hard.
"Dominic, ouch!"
He chuckled and rubbed her buttocks, soothing the sting. "It only took what, thirty spanks to get you to use my name? Let's see how long it takes you to say Sir."
He slapped her ass again, right on the sit spot, and she squealed and jerked her body as he did it again. "Sir.Ouch, Sir!"
"Very nice," he told her, a smile in his voice. "Your ass is pink now, Chloe. How are you feeling?"
He rubbed her cheeks lightly, then dipped a finger into her wetness and started stroking her.
"Oh," moaned Chloe, letting her legs open slightly, trying to entice him further. "God, that feels good, Dominic. Sir. Please don't stop touching me."
"I like to hear you call me Sir," he murmured, while he continued to tease her with his touch. "I think you like it too, if this is any indication," and he removed his fingers from her body. "Look, Chloe, look how wet you are for me. Tell me you like it when I spank you."
Chloe ran her hands over his jean-clad leg, feeling his hard calf through the fabric. She wanted him naked. "I like it."
In reply, he slapped her ass a few times, hard cracks that echoed around the room. "I like it…?"
"Oh! Yes, I like it… Sir. I like it when you spank me." She felt her face turning red, and was glad that she was facing the floor for the moment, but Dominic seemed to sense that, and she found herself being righted, and then he seated her across his lap.
"Let me see your face when you tell me," he said, and his voice was both passionate and tender. "Because I want to know you mean it, that you like this as much as I do."
Dream Girl is a light-hearted, fun romance with steamy sex, laugh-out-loud humor, and an HEA. It releases September 1st on Amazon and will be in the Kindle Unlimited program.
Thanks for having me, and I hope you enjoyed the excerpt!
You can find Alexis Alvarez at her blog, which she shares with her two real life sisters. She's also available on Goodreads and Facebook.